Hosted PBX
Add enterprise-grade calling features, improve reliability, and enable mobile users-while cutting your phone bills by over 50%.
Rich, enterprise-grade calling features
Powerful web-based control panel
Easy to manage and scale
24/7 support and a 99.999% uptime SLA
Hosted PBX service details
Key definitions
In the past, most phone systems required buying hardware and paying someone to install and maintain it. With Hosted PBX, your phone service is delivered from Intermedia's datacenters. All you have to do is buy the phones and connect them to the Internet.
What about reliability?
Keep your phone numbers
It's simple to move to Hosted PBX. We work with you to port over your phone numbers with no disruption to your business. Our Cloud Concierge team actually migrates around 5,000 phone numbers to our service every single month.
Our Cloud Concierge™ team is here to help you get up and running—including dealing with the phone company to switch your phone numbers.
You're ready for business the moment you plug in your phones
We port over your current phone numbers—including toll-free numbers—so there's no need to change your contact information
We set up your users and ensure a smooth transition
We work at your direction and let you dictate the pace
Voice quality testing
Before we'll sell you a single Hosted PBX line, Intermedia will ask you to take a free voice quality test. If you're talking to other providers, you'll note that our test is more comprehensive and longer-lasting than the rest.
That's deliberate. In order to help assure the best experience for people calling on your network, we're going to put it through a stringent testing process. This is how we help ensure excellent calling quality even when your network is congested from file downloads or video streaming.
What is voice quality testing?
Voice quality test helps make sure that your network can support the additional load caused by VoIP phone traffic.
In the testing process, we'll drive rigorous voice and data traffic to your network to simulate real-life loads.
To perform the test, we will do the following:
Set up a phone simulation software on your network
Tune the software to the number of phones you are looking to buy
Run the simulation as if all phones are being used for three full days, in parallel with your regular network tasks
Capture all network traffic information and analyze it
More rigorous testing than most other providers
We hold ourselves to an extremely high standard. One of the key differences in how we test is that we'll perform our simulation over three full days. This is important because the traffic on your network often varies depending on the time of day and even the day of the week.
For example, think about when you perform system backups or transfer big files to your customers. These tasks create congestion in your network that could impact voice calling quality. And a short test will not detect them.
What we're testing for
Our engineers analyze the stream of data packets (those bits of digitized information that flow through the network) along the following criteria:
Bandwidth. We'll verify that your actual bandwidth is sufficient for both data and voice traffic.
Packet loss. If packets are dropped on their way to their destination because of network congestion, there will be interruptions to your conversation. We need to spot it ahead of time.
Latency. This is when packets take too long to get to the other side, which causes delays in the conversation. Any delay over 60 milliseconds is noticeable and disruptive.
Jitter. Jitter is when data packets arrive in different order or at a different pace from when they were sent. If not corrected, jitter causes a noticeable drop in the quality of the phone call.
Complete connectivity disruption. A complete disruption of the network connection will naturally cause calling problems.
What if we find problems?
In more than 90% of the tests we perform, we find no issues.
But when we do find problems, we do two things: first, we recommend that you hold off on your buying decision until you adjust your network environment. And second, we formulate a plan to fix the issues.
In some cases, this is as simple as adjusting your back-up schedule. In other cases, we need to work with your Internet provider—and we'll actually join calls and reach out to the provider on your behalf to sort out the technical issues.
For partners: test before you sell with VoIP Scout
Intermedia's VoIP Scout enables Hosted PBX and SIP Trunking resellers to conduct comprehensive self-service testing of their customers' data networks in order to identify and mitigate potential issues that could impact voice quality or system performance.
VoIP Scout lets partners simulate the fullest potential load the VoIP services could conceivably put on the network over 3 to 5 business days. The scope and duration of the test allows partners to inspire confidence in customers that may otherwise be wary of VoIP or proactively address network issues that could prevent high-quality VoIP service. Intermedia's VoIP Scout consists of three core components:
The VoIP Scout Appliance for running tests via an inexpensive piece of dedicated hardware (ideal for locations with no available PCs and/or dedicated voice networks)
The VoIP Scout Soft Client for running tests via on-site computer in the background
The VoIP Scout Management Portal for scheduling, reviewing and managing network tests
The VoIP Scout Soft Client and Management Portal are available free for all partners. The VoIP Scout Appliance is sold to partners at cost.
Hosted PBX FAQ
What is Hosted PBX?
Our Hosted PBX service offers VoIP-enabled business voice service that provides you with a complete telephone service for your business—without requiring you to install and manage complicated, expensive equipment.
What is VoIP?
VoIP is the acronym for Voice over Internet Protocol. It is the general term used to describe the technology of transmitting and delivering voice communications over the Internet.
Can customers port their number to our service?
Yes, we offer number porting.
What do I need to do to port a phone number?
Once you've activated your Hosted PBX service, you will be able to request a number port from our porting team. You will need to fill out a letter of authorization form and provide a recent bill from your current provider. Intermedia will then submit the port request to your current provider. It's important that you do not cancel your phone service as this will disrupt the port.
How long will it take to port my phone number(s)?
Generally, a number porting can be completed within 7 to 10 business days. The exact length of time will depend on the service provider we are porting the number from and the accuracy of the information that is placed in the port request. We will work with you to complete the necessary paperwork and then submit the request
Are toll-free numbers available?
Yes. With Hosted PBX service from Intermedia, you can order new toll-free numbers or port existing toll-free numbers.
What phones are supported?
Intermedia offers a wide range of phones from Polycom. You can order these phones through Intermedia and they will be shipped to you preconfigured for each Hosted PBX user on your account. Intermedia also supports the Cisco cordless IP phone.
How much bandwidth do I need for Hosted PBX?
Generally, a Hosted PBX VoIP call will use a G729 codec or appx 30 kilobits per second (kbps) of bandwidth for the duration of the call. If you were to add Hosted PBX for five users, and everyone was on the phone at the same time, it would require 150 kbps of bandwidth during the calls. (For reference: 1,000 kilobits is equal to 1 megabit.) Your exact needs will depend on the call volume and call patterns at your company as well the type of IP phones you are using. You can use your existing Internet connection for Hosted PBX as long as the connection is dedicated (not dial-up) and you feel you have adequate upstream and downstream bandwidth for the number of users you are adding.
Do I have to deploy Hosted PBX to every Exchange user?
No. Hosted PBX can be enabled for as few as one user. It can also be enabled for Active Directory users who don't have Exchange mailboxes.
Can I get Hosted PBX service as a standalone product?
Yes. Hosted PBX can either be added to your Intermedia hosted Exchange service, or you can add Hosted PBX service as a standalone product.
Where are Hosted PBX services offered?
Our Hosted PBX service is available in all 50 United States (Alaska and Hawaii included at no additional cost).
Can I park unused phone numbers on a Hosted PBX service?
Yes, parking unused phone numbers is possible on Intermedia's Hosted PBX. A small per-number fee is charged.
40+ Calling features
Intermedia's Hosted PBX service gives small and medium-sized businesses the same enterprise-grade desktop calling features found in Fortune 500 companies. Key features include:
Administrator Portal
Manage all aspects of the phone system from a web-based portal. View current and past invoices, make changes to phones, create voicemail groups, upload hold music, create paging groups, view call history and much more.
All Page/Intercom
Paging allows you to speak to all phones at the same time through the speakerphone. Paging is used to make announcements or to let people know about a parked call.
Alphanumeric LCD Display
The phone's LCD displays shows the phone's number, extension and inbound caller information.
Automatic Answer Mode
You may program your desk phone to work in auto-answer mode. In this mode the speakerphone key light flashes red, and when you receive an internal call you hear a burst of tone and the call is connected automatically.
Automatic Line Selection
This function allows users to make external calls without having to enter the line access codes (9, 8).
Call Blocking
Up to ten phone numbers can be blocked from reaching your phone when a caller attempts to call you from one of these numbers.
Call Forward Always
The desk phone can be configured to forward all calls received at an extension without ringing the extension to voicemail, another internal extension, or an external number such as a cell phone.
Call Park and Pickup
Parking a call is very similar to putting a call on hold. The key difference is, when you put a call on hold you can only retrieve the held call from the phone that put the call on hold. With Call Park, you can put a call on hold and pick it up from ANY phone. Up to 4 calls can be parked system-wide at any given time.
Call Recording
Two types of call recording are available.
Automatic call recording records all calls placed through the HPBX system from the beginning of the call to the end.
On Demand allows the user to record a call on demand by pressing of a few phone keys.
Call Transfer External
This feature allows an extension to transfer a call to an external number.
Call Transfer Internal
This feature allows an extension to transfer a call to another internal extension. You can transfer a call to an extension when the extension has answered, while ringing the extension, or while the busy tone is being received from the extension.
Call Waiting From External Calls
If you are on a call and your extension is presented with an external call, you will hear a call waiting tone and may place one call on hold to answer the second call.
Caller ID (Number)
When you receive a call, you will see the incoming number providing the caller didn't block it.
Custom Message
Record you own music or special hold message for your callers. Your custom hold music or message can be easily uploaded through the Web-based Admin Portal.
Desk Phone Ringing Tones
You can select from multiple ringing tones.
Direct Inward Dialing (DID)
Each phone has its own phone number and extension.
Do Not Disturb
If your extension is set to Do Not Disturb, anyone trying to call you will be sent directly to your voicemail box.
eAgent Integration (CallScape)
When a call comes in, CallScape will pass the caller ID to eAgent and if it matches a number stored in eAgent, eAgent will open the contact.
Extensions
Extensions are optional. They can be used for internal dialing by your users, when calling each other. They are also used by the Auto Attendant and Hunt Group systems for forwarding calls to users. You can select the length of extensions from 3-6 digits.
Extension Lock
This feature allows you to lock your extension to prevent unauthorized users from making external calls. You use a Lock Password to lock, unlock, or to make calls from a locked extension.
Extension Names
You may assign names to extensions. This name will be displayed on the screens of the phones you call.
Fax Machine Integration
Fax machine integration allows you use your existing fax machine. Intermedia provides a "Fax Adapter" to allow your fax machine to connect with the Intermedia network.
FollowMe
Ring your office phone and cell phone at the same time.
Forwarding Calls
Forward all calls from your extension. Before you leave your extension, you can forward all your calls to ring at another extension. Alternatively, you can forward all external calls presented to your extension to an external number.
Forward a Message from a Desk Phone
A user can forward a message from their voicemail box to any other voicemail box or create a group for easy voicemail distribution.
Group Voicemail
Create groups of people in your company to send or forward voicemail messages quickly and easily.
Headset Mode
Your desk phone is equipped with a socket for a headset.
Instant Call Back
While listening to a voicemail message, press a key to instantly call the person back (right from your voicemail).
Incoming Call Alert (CallScape)
CallScape can alert you on your screen of all incoming calls and allow you to answer or reject the call.
Message Waiting Indicator
The desk phone has a red LED that blinks indicating that the user has voicemail.
Multi-Call Appearance
The phones can support up to 2,4,6,8 (depending on the phone) simultaneous calls (e.g. call appearances). These can be from external or from internal extensions.
Music on Hold
When an external call is placed on hold, the caller is presented with hold music. Choose Intermedia's hold music or upload your own.
Mute and Volume Control
The phones allow the users to raise the volume of the ringer, the speakerphone, and the audio or to mute the microphone on the speakerphone or handset with buttons.
Named Ring Groups
Named Hunt Groups allow you to know which Hunt Group was called by viewing the LCD display on the phone. This is ideal if you run two businesses from one location because you will know how to answer the phone based on what shows on the screen.
On Hook Dialing
A convenience that allows the user to just start dialing without first choosing a line.
Personal Directory
Each desk phone has a personal phonebook (size of directory depends on phone). Calls can be made directly from the personal directory. Received, dialed and missed calls from the call lists can be edited and saved to the personal directory.
Real Time Call Monitoring with CallScape
Always know who is on the phone. CallScape is a FREE application that allows you to see who, within your company, is on the phone. Simply install on your Mac or PC and you are able to monitor, in real time, the status of all of the phones in your company regardless of the phone's location. You can also drag any phone number or Outlook contact on top of CallScape and your phone will place the call.
Rebound
After calling a person back from your voicemail box, instantly return to your voicemail box by pressing two keys.
Record Your Own Voice Mailbox Greeting
Each extension can record a customized greeting for their voicemail box.
Redial
Use the redial feature to redial the external number you most recently dialed.
Remote Voicemail Access
Remote voicemail access allows you to simply call your phone from any phone and quickly access voicemail messages.
Salesforce Integration (CallScape)
When a call comes in, CallScape will pass the caller ID to Salesforce and if it matches a number stored in Salesforce, Salesforce will open the contact.
Saved Number Redial
The ability to ring multiple phones in a specific order. If no phones are answered the call can be directed to a specific greeting or menu or voicemail box.
Sequential Dialing
In addition to the last external number, the previous 10 numbers dialed are also stored and may be redialed.
Speed Dial Directory List
Each extension can program up to 400 individual speed dial numbers.
3-way Conferencing
The phone allows three callers to be joined in a call together in a conference.
Voicemail
Every extension is allocated a voicemail box by default. Voicemail features include: delete, skip, or save messages – send messages to another mailbox – playback control when receiving messages – change personal greeting and password – 90 minute voicemail storage per voicemail box – message key to access voicemail – numeric message count indicator.
Voicemail to Email
When a voicemail message is left in your voicemail box, you can receive an email with the voicemail attached as a .WAV file.
Web-access to Voicemail
Each user may log into their personal web portal to listen to and manage voicemail messages.
WebFax
With SmartFax Pro service you instantly receive faxes as PDF email attachments. You can view faxes on virtually any web-enabled device and forward to any email address.
Using a single local or toll-free number, you can receive faxes on your Windows PC (without special hardware) to send faxes to any fax machine.
Enhanced Features To Make Your Business Stand Out
Auto Attendant
Our Auto Attendant greets callers and routes calls to the right person or information 24 hrs per day. With Auto Attendant, you sound like a much larger, more professional business and you can program it using the Administrator Portal.
Call Queuing (ACD)
Call Queuing, a standard feature of Auto Attendant, allows callers to be distributed to specific groups of phones. If all of the phones in the group are busy the callers will receive your custom messages and options while they hold for the next phone to become available. Users can log in and out of Call Queues through their phones or personal web portals.
Conferencing
Enjoy enterprise quality phone conferencing and capabilities.
Mobility features
Our Hosted PBX service helps your staff be productive whether they're at their desks or on the road.
Automatically forward desktop calls to mobile phones with Find Me/Follow Me. Or, ring mobile and desk phones at the same time.
Respond faster with voicemail-to-email.
Enable your smartphone, or tablet to manage your Find Me / Follow Me settings. This helps you ensure that critical calls are reaching you virtually no matter where you are.
Softphone Mobile App allows staff to use their smart phone as an extension off the HPBX. Don't miss a single call while on the road. When placing a call, present your office caller ID instead of your cell phone caller ID, and save on roaming charges.
CallScape phone/computer integration
CallScape works with both PCs and Macs to make calling easier and more efficient for both regular phone users and power users such as receptionists or administrative staff.
With CallScape, you'll be able to:
See user availability and status indicators – CallScape provides at-a-glance information on the availability of the members of your team. This is especially valuable for power users such as receptionists or assistants, because it allows them to check a person's availability before transferring a call. A special view on the dashboard provides at-a-glance availability status of all contacts in the team.
Integrate with Microsoft Outlook – CallScape integrates with Outlook's address books to let employees consolidate their contacts information, instead of having to maintain a separate contact list on their phone. In addition, users can place calls directly from Outlook without having to dial on the phone.
Control your phone with your computer – CallScape lets employees use their computer to simplify many phone-related tasks. They can receive notifications of new voicemails via the CallScape dashboard and listen to them right on their computer. They can also accept or reject calls with the click of a mouse.
Integrate with your CRM system – For salespeople and customer support staff that use Salesforce, eAgent or other CRM systems, CallScape provides a significant productivity boost. As a call comes in from a customer, CallScape will launch the CRM and pull up the caller's records based on the phone number.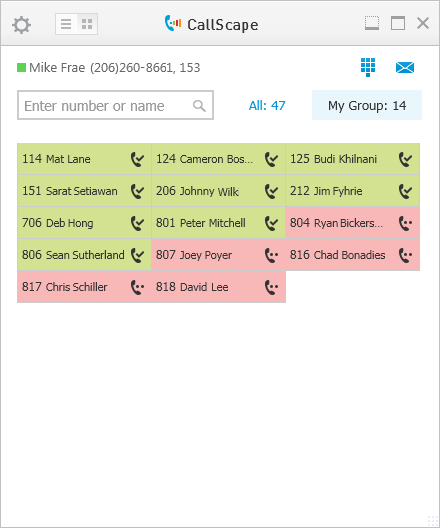 Conference calling
Intermedia's SmartConferencing service makes it easy to get groups of people on the same line—and on the same page.
Connect up to 25 people on the same line with no reservations required
Host up to 100 people on scheduled conferences
Schedule conferences up to one year in advance
Distribute unique control codes for host and guests
Conferencing waiting relieves host of having to be first online
Hold conferences from virtually any phone, anywhere with a private, toll-free dial-in number
Choose between unlimited or pay-per-use billing plans
Call Recording
Two types of call recording are available.
Automatic call recording records all calls placed through the HPBX system from the beginning of the call to the end.
On Demand allows the user to record a call on demand by pressing of a few phone keys.
24/7 expert support
Our engineers work behind-the-scenes to keep your cloud performing at the highest levels. This ensures that nothing distracts you from growing your business.
But should the need arise, our support philosophy is simple: we're here when you need us. And we respond to you, fast.
Here's what you get with Intermedia's support:
Expert phone support

Business apps support: 100% Microsoft Office Specialist certifications for T1 team members
Business apps support: T2 team members are 100% certified, with certifications ranging from Microsoft Certified Solutions Associate (MCSA) to Microsoft Certified Solutions Expert (MCSE)
Voice support: 100% CompTIA Net+ certification within first year of employment
Voice support: 100% SIP School certification for all Escalation/T2 team members

All-hours availability
24/7 phone and chat support is included in most plans.
Short hold times
We typically answer the phone in 60 seconds or less. (This level of service beats executive support at Fortune 500 companies.)
Commitment to resolution
Unlike other providers, we won't push you to self-help solutions. We'll stay with you until we resolve your problem.
No 'critical issues' standard
Unlike other providers, we don't enforce a threshold for phone support. Admins can call us for help with any issue.
No lock-in to a single person
Your account history is available to the entire support team. Each of us has the context to solve your problems.
Commitment to quality
We don't pressure team members on call length. All our key metrics are related to first-call resolution and customer satisfaction.
Obsession with satisfaction
We'll survey your satisfaction after every call. And we'll contact you every six months to get your feedback.
No outsourcing
Every team member is a direct employee. Our overnight support office is manned by English-speaking team members whose certification and problem-solving ability equals our daytime staff.
Senior technicians are available
If you have a highly technical challenge, feel free to request a Level 2 support technician.
Going beyond individual cases
You can request a 90-day review of all your support cases to identify and eliminate recurring issues.
99.999% financially backed SLA
Intermedia believes in giving our customers the best service possible. So we provide your business with a financially backed 99.999% (five nines) uptime service level agreement for all our services.
A 99.999% uptime SLA means that you should expect less than six minutes of downtime over the course of a year—and, if we should fail to deliver, we'll compensate you for it.
Our competitors—including Office 365—only offer a 99.9% uptime guarantee. That's just three nines. And while that difference may not seem significant, the difference actually amounts to downtime of over 8 hours.
Availability %
Downtime per year
99.8%
17.52 hours
99.9% ("three nines")
8.76 hours
99.95%
4.38 hours
99.99% ("four nines")
52.56 minutes
99.999% ("five nines")
5.26 minutes
Source: Wikipedia, "High Availability"
How would your business suffer if you couldn't communicate with your customers or coworkers for a whole day? Or even half a day? With Intermedia's five-nines uptime guarantee, you won't have to find out.
How do we guarantee five nines availability?
We architect our cloud specifically for reliability, performance, and data protection.
Enterprise-class security
Our business is predicated on our ability to offer a more secure environment than our customers could deploy themselves on-premises.
Multi-tenant platform security
Intermedia uses multiple redundant, enterprise-class firewall systems to prevent unwarranted intrusions.
Intrusion protection systems
Intermedia runs multiple intrusion protection systems (IPS) (both host and network) to detect and deter malicious network traffic and computer usage.
Physical security
Our datacenters are closely monitored and guarded 24/7/365 with sophisticated pan/tilt closed-circuit TVs. Secure access is strictly enforced. Security guards are stationed at the entrance to each site.
Employee security
Every Intermedia employee undergoes a rigorous background check. Employee access to passwords, encryption keys and electronic credentials is strictly controlled. Access to servers is restricted to authorized engineers and monitored regularly.
Redundant internet service providers
Each datacenter is serviced by multiple Tier-1 Internet providers to mitigate the potential impact of a Denial of Service (DoS) attack.
Authentication and access
Intermedia's stringent policies and procedures authenticate a caller's identify during support and service calls. Our online control panel gives you full control over access to services and administrative functions.
Dedicated security staff and monitoring
Intermedia employs dedicated, full-time security staff who are certified in all disciplines of information security.
Privacy
Intermedia is registered and certified with the US Department of Commerce for privacy under the Safe Harbor program.
SOC 2 Certification
Intermedia has a SOC 2 audit report from an independent auditor who has validated that, in their opinion, our controls and processes were effective in assuring security during the evaluation period.
PCI compliance
Our payment processing system has passed the strict testing procedures necessary to be compliant with the PCI Data Security Standards (PCI DSS).
Cloud Concierge™ Onboarding
The hardest part about moving your IT into the cloud is retaining the value that's invested in your current system
Most cloud providers force you into a DIY migration path or "recommend" hiring a migration consultant. But Intermedia is different.
Our Cloud Concierge™ experts implement a custom migration plan to move your existing users and data into the cloud with minimal interruption to your business—at no extra cost. We migrate an average of 15,000 mailboxes and over 5,000 phone numbers to Intermedia each month, so you know you're in good hands. Our Cloud Concierge onboarding experts are certified by Microsoft and Cisco, along with other product-specific certifications like SSVVP/SSCA and Sonic Wall. And they routinely complete training courses to increase their knowledge and skills.
Hosted Exchange
Our Cloud Concierge experts will work with you to:
Design an email migration plan that fits your schedule to reduce disruption
Set up your email accounts
Migrate your existing data
Shift your employees over to the new email service seamlessly and without loss of data
Hosted PBX
Our Cloud Concierge experts will work with you to:
Test your network to make sure it can properly support high-quality calls
Work with you and your service providers to optimize your network, if needed
Set up your Hosted PBX service
Port over your existing phone numbers
Ship your new phones
Provide training for using your auto-attendant, creating and managing users and call lists, deploying Callscape, and leveraging other mobility features
Email Archiving
For migrating existing data, you have a number of options:
Currently an Intermedia Exchange customer? We'll port your current mailbox states into Intermedia's Email Archiving at no cost.
Currently using Intermedia's Message Mirror? We'll migrate and ingest your full data set at no cost.
Currently using another archiving solution? We'll migrate and ingest your full data set for you.
SecuriSync® backup and file sharing
Want to sync a file server up to SecuriSync? Just use our SecuriSync for Windows File Server sync tool to:
Install the tool on your file server
Decide whether to sync all or a subset of the files to the cloud, or
Migrate all the files to SecuriSync in case you no longer require the server
Intermedia Office Apps
Enabling Office apps for your users is easy. Simply provision your users for Office apps in HostPilot and then instruct them to log in to My Services and install the apps. Our Knowledge Base provides all the details, including installation and login instructions for your users.
Intermedia AppID®
Our Knowledge Base provides all the information you need to quickly enable AppID for your users. We provide an Admin guide that shows you how to provision users and add custom apps to the service. And give you an end user guide for your users that shows them how to add apps to their portal and use AppID to access those apps.
Powerful control panel
Every Intermedia service is managed through our powerful HostPilot™ control panel.
HostPilot integrates control over your Intermedia user accounts, services and devices across your locations. It essentially functions as a "business cloud platform"—making your cloud simple to manage while still offering granular control that matches an on-premises environment.
Control over services
Easily add other Intermedia services (such as SecuriSync file sync and share or Skype for Business)
Accept or reject user service requests
Review logs of all changes for transparency
Control over devices
Manage a wide range of mobile devices
Set security and management policies for virtually all your mobile devices, including passcode enforcement, data encryption, etc.
Perform remote wipes on lost or stolen devices
Restrict devices from accessing Intermedia services
See all enabled devices across your organization
Control over user accounts
Add, delete or modify user accounts for web applications
Change user settings, distribution lists, company contacts, disk space and much more
Set up multiple levels of administrators
View detailed exportable reports of your account activity, down to individual transactions
Empower users to self-administrate (see below)
Sync with your on-premises Active Directory (via our UserPilot service)
HostPilot mobile app
Our HostPilot mobile app lets you control your Intermedia cloud using your iPhone, iPad or Android device. It's free and available in Google Play or the Apple App Store.
My Services: Our user control panel
The My Services portal lets each Intermedia user perform simple administrative activities. This includes changing passwords, requesting new services, or downloading desktop applications. My Services helps eliminate many of the routine requests that distract admins on a daily basis.