Intermedia SecuriSync® backup and file sharing
File sync and share with backup for desktops, mobile devices, and file servers.
* Product and feature availability may vary by region.
SecuriSync Service Details
Real-time file backup
Because SecuriSync is syncing files, it's also able to back them up… as soon as changes are made. SecuriSync syncs and backs up more than just the files in your SecuriSync folder—it also protects files and folders on your Desktop and in My Documents, Music, Video, Downloads and Documents folders. Plus, SecuriSync will also automatically backup photos and videos from iOS and Android devices.  And unlike other online backup services, once files are backed up with SecuriSync, they're available from any device: Mac, PC, iPhone, iPad, Android, Windows Phone, BlackBerry and the web.
Real-time backup eliminates the "backup gap"
Most people set their backup to run every 24 hours. But if an employee has spent all day working on a document and then loses a laptop, has a hard drive failure, or gets hit by ransomware, yesterday's backup isn't going to help. Unlike traditional solutions, which create gaps because they back-up on a set schedule, SecuriSync backs up files in real time, every time a change is made. And SecuriSync will keep an unlimited numbers of versions.
As soon as files are created or changed, they're backed up – and instantly accessible from desktops, laptops, mobile devices, and the web. So if data is lost, it can be recovered and restored quickly – reducing downtime and keeping employees productive no matter what strikes.
Restore to any point in time
Backed-up files can easily be restored to any previous versions using SecuriSync in case of hard drive crashes, lost or stolen laptops, accidental deletion or mass file infection. Employees and administrators can use the restore feature to bring back files from a specific time and date.
Restore from any failure scenario
1. PC failure, loss or theft
Install SecuriSync desktop client on separate machine to automatically restore files
2. Accidental File deletion
Restore file or folder from SecuriSync Recycle Bin
3. File Version corruption or overwrite
Restore a past version from desktop, web or Office
4. Mass infection, corruption, or overwrites of files (e.g. Cryptolocker/Ransomware)
Mass roll-back of file and folder states to past date & time
 
 
 
Sync what you want with Selective Sync
Don't need all those images and videos taking up hard drive space? Selective Sync from SecuriSync lets you pick and choose what folders and files you want to sync to your device. All your files will always be available in the cloud via the SecuriSync web experience.
File sync and mobile access
With SecuriSync, employees are able to securely work on files whenever and wherever they need to.  As soon as files are stored in SecuriSync, they sync across every device where SecuriSync is installed:
Windows and Mac PCs and laptops
iPhone, iPad, Android, Windows Phone, and BlackBerry mobile devices
Windows Servers
SecuriSync files are also always accessible from SecuriSync web from almost any web browser.
File server sync
Solve your file server dilemma with SecuriSync and File Server Sync
If you're using file servers for file storage, your employees are likely struggling to access content when they're out of the office and to share content with people inside and outside your company. SecuriSync can help solve your file server dilemma with File Server Sync.
The File Server Sync application can be installed on an existing Windows file server and configured to sync all or some files to SecuriSync. It's a great way to add mobility and collaboration to current file servers.
Mobile access without VPN: Make it easy for your employees to find file server content without having to set up cumbersome VPN sessions. File Server Sync provides access to critical business information from any device, speeds decision-making, and improves productivity for remote or traveling employees.
Secure – and easy – file sharing: Eliminate the complexity of sharing file server files via FTP or hoping large email attachments don't get bounced. File Server Sync makes it a breeze to securely share files between branch offices and with external parties, such as clients or business partners. You can share via web links or with collaborative folder sharing for ongoing projects.
File server backup and restore: SecuriSync with File Server Sync backs up file server files whenever changes are made and files can be rolled back to any previous point in time, significantly reducing the time to recover from a ransomware attack or other type of data loss.
For resellers, increased profitability: MSPs and VARs can use File Server Sync to complement and mobilize their customers' existing file servers and generate recurring revenue and higher margins in the process.
File Server Sync can be used to migrate data from file servers to SecuriSync in preparation for decommissioning file servers. Or, it can be used to synchronize data between file servers and SecuriSync on an ongoing basis to use alongside current file servers.
Office Online and SecuriSync
SecuriSync works with Office Online so employees can create, edit and collaborate on files without having to open desktop applications.
Edit Files Online
SecuriSync and Office Online lets you work with Word documents, Excel® Spreadsheets, PowerPoint® presentations right online.
More ways to be productive – edit files from any computer
Save time – edit files directly in the web
Get to work faster – create new documents directly from SecuriSync
Reduce data loss with automatic saving
Office Online includes many of the same features as desktop versions of Word, Excel, and PowerPoint, so there's nothing new to learn.
For employees that work from kiosks, on different computers, or prefer the web over desktop applications, they'll be able to do it all with SecuriSync and Office Online.
Co-edit files in real-time
Speed work cycles with simultaneous collaboration. Co-editing allows multiple collaborators to edit a file at the same time.
Changes are viewed in real-time, shortening review cycles so documents are finished more quickly. Annotated comments keeps feedback together with documents.
Seamless Integration with Office 365
SecuriSync works with any Office 365 business plan that includes Office Online. Current Office 365 subscribers can add SecuriSync to backup and securely share Office 365 files and benefit from the Office Online integration right away.
Intermedia Office Apps powered by Office 365 includes Office Online.
File sharing and collaboration
In addition to file sync and file backup, SecuriSync offers comprehensive collaboration capabilities, allowing employees to easily and securely share files and folders with people both inside and outside the company.
File sharing: an easy way to send large files
File sharing with SecuriSync web links is an easy and secure way to share files, help ensure large files will be delivered through any email system, and reduce mailbox size by eliminating file attachments in email. You can automatically replace file attachments with SecuriSync links directly in Outlook or you can generate secure links from Office or through the SecuriSync web portal. You can also password protect links and even stop sharing links.
Folder sharing: collaborate on shared content
With SecuriSync, folders are easily and securely shared with co-workers, so multiple people can access and edit the same set of content. Folder sharing saves time by not having to search for the latest version of docs or consolidate multiple revisions and shortens feedback loops. Worried about conflicts or overwrites? With SecuriSync, every previous version is stored and you can roll back to an earlier edit with just one click.
Share outside your company
If you have business partners, vendors, or other external parties that need to access or edit content on an ongoing basis, you can invite them to collaborate on SecuriSync folders. External collaborators can add, edit, and manage content in shared folders just like internal collaborators do.
Sharing permissions
SecuriSync offers complete control over sharing permissions.  Folders can be shared with "co-owner," "modify," and "view" permissions.  Permissions can be modified at any time and sub-folders can be shared with different permission levels.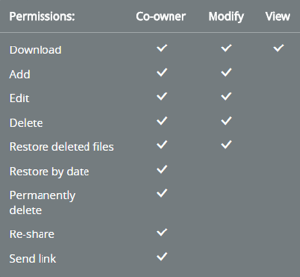 Share from Outlook and Office on Windows
If you're a Windows user, you can share and manage SecuriSync files directly from your most commonly used Microsoft desktop applications. This makes syncing and sharing fit even more naturally into the way you already work.
Manage Content with Selective Sync
For users that collaborate heavily, they may not want to see every shared folder in their SecuriSync desktop client. Selective Sync allows them to control and simplify their desktop user experience by selecting which folders to sync on an ongoing basis. Even if folders are not synced, they are always backed up and stored in the cloud and accessible via SecuriSync web.
Security features
SecuriSync is easy and intuitive for employees to use, but that doesn't mean businesses need to sacrifice security. SecuriSync offers a broad range of controls to ensure that data is protected and stays secure.
Keeping access strictly controlled
Businesses have full control over who has access to SecuriSync content.
Access and permissions can be edited, updated and revoked at any time
Administrators can set backup and data retention policies across their users' computers
SecuriSync data can be quickly remotely wiped from any device
Audit log tracks all file and folder syncing and sharing activities
Leverages Active Directory user settings, permissions and passwords
Collaboration management tools to protect content
One of the challenges with file collaboration tools is that multiple people might be working with the same file or folder at the same time. SecuriSync includes a number of collaboration and content management features to help minimize confusions and , leading to potential overwrites, conflict copies or accidental deletions.
Co-editing and locking features help prevent overwrites and conflict copies
Previous file versions can be restored from the web and from the Outlook plug-in
Deleted files can be recovered and restored from the web or from Recycled Items
Disabled and deleted user data is retained and accessible by administrators for the life of the account
Built with enterprise-grade security and reliability
99.999% uptime service level agreement
SSAE 16 Type II-audited datacenters
Intermedia is SOC 2 audited company-wide
At-rest data is secured with 256-bit AES encryption
In-transit data is secured using 256-bit SSL/HTTPS encryption
Each account is protected with a unique encryption key
Data can be remotely wiped from any SecuriSync device
Administration
SecuriSync provides IT administrators and business managers with the ability to manage all aspects of SecuriSync: users, devices, policies, files, and sharing activities. Our comprehensive administrative control panel gives account owners complete control over their file management environment.
Administrative Policy Management
Administrators can set backup policies across their users' computers, including different policies for corporate and personal devices. This ensures that end-user files are backed up in real-time, including the Desktop, Documents, Photos, Videos, Music and Downloads folders as well as the My SecuriSync folder. 
Additionally, administrators can easily ensure that company files are backed up by monitoring activity and compliance with backup policies. Admins can also set data retention policies which allows them to control how long backed up files are saved.
Device and Storage Management
SecuriSync device management allows administrators to view all devices configured for each user and see when the device last synced or was backed up.
Has an employee's device been lost or stolen? Do you need to remove corporate data from machines belonging to an employee who's left the company? Any SecuriSync device can be remotely wiped of all SecuriSync files with one click, helping ensure that critical business data can be quickly and easily removed from machines that have fallen outside of IT control.
Exert granular control with Admin File Management
Account owners can dive into end-user SecuriSync content to adjust sharing permissions, add/delete/restore files, and search across the SecuriSync folder and file structure. This feature ups the power of SecuriSync's already-powerful admin features.
Intermedia makes it easy
Like all Intermedia services, SecuriSync comes with onboarding assistance from our Cloud Concierge as well as 24×7 support. We typically answer our phones within 60 seconds and our emails within an hour.
Intermedia customers can provision SecuriSync in just a few clicks—with no need to adjust your VPN, firewall or security policies. If you're not an Intermedia customer, our Cloud Concierge onboarding team will help you get up and running in no time.
Integration
SecuriSync works with many different applications and platforms to maximize functionality and usefulness. Some integration features of SecuriSync include:
Mac and Windows integration. SecuriSync files and folders work just as any file and folder would on your PC or laptop.
Mobile device integration. Apps for iPhone, iPad, Android, and BlackBerry allow users to access, share and work on SecuriSync files on the go.
Active Directory integration. SecuriSync leverages corporate passwords and address books as well as your existing user and device settings.
Windows file server integration. Use File Server Sync to provide mobile access and collaboration to existing file server content.
Microsoft Exchange integration. Use Exchange Distribution Lists to easily share content with groups.
Outlook and Office integration. On Windows, our plug-ins put SecuriSync right inside your most frequently-used Microsoft apps and gives you the power to co-edit files.
Office Online.  Create, edit, and simultaneously collaborate on SecuriSync files with Office Online.
Part of Intermedia's Office in the Cloud
SecuriSync is integrated into our Office in the Cloud suite of services.
Simple pricing. SecuriSync adds a flat per-user monthly fee to your bill.
Centralized control. All our services are managed using our HostPilot Control Panel.
Flexible plans. Assign SecuriSync to all users or just specific ones.
A Worry-Free Experience™. Intermedia offers free 24/7 phone and chat support any time you need it.
Exchange Cloud Email integration. Use Exchange Distribution Lists to easily share content with groups.
SecuriSync compared to other solutions
See how SecuriSync compares to other types of file management solutions, including file servers, online backup, and other file sync and share services.
SecuriSync compared to file servers
Like file servers, SecuriSync offers a high level of management and control over files and sharing. Unlike file servers, SecuriSync is much easier for employees to use, especially if they need mobile access to files or need to share files and collaborate on files with colleagues.
| | SecuriSync | File Servers |
| --- | --- | --- |
| VPN-less access to files from desktop, mobile device and the web | | |
| Securely share files and folders | | |
| Co-edit files with multiple collaborators | | |
| Prevent permanent deletion of files | | |
SecuriSync compared to online backup
SecuriSync backs up multiple file types just like online backup services, but also provides mobile access and the ability to share and collaborate on files.
| | SecuriSync | Online Backup |
| --- | --- | --- |
| Files backed up as soon as changes are made | | |
| Access to files from mobile devices and the web | | |
| Backup of mobile photos and videos | | |
| Share files and folders with collaborators | | |
| Store unlimited versions | | |
SecuriSync compared to file sync and share services
SecuriSync is just as easy to use as popular, consumer file sync and share services and offers comparable collaboration features of business editions, but it adds backup and restore features together with full administrative management.
| | SecuriSync | File Sync and Share |
| --- | --- | --- |
| Sync and back up files from Desktop, Documents, Videos, Music, Photos and Downloads folders | | |
| Mass restore files and folders back to any point in time | | |
| Administrative control of policies, files, users, devices and sharing events | | |
| Prevent permanent deletion of files | | |
Business continuity during ransomware attacks
The threat of ransomware is rapidly rising, targeting businesses of all sizes. And it's spreading to multiple victims within corporate networks.
The real threat of ransomware is downtime. 72% of victims were unable to access their data for at least 2 days, with 32% down for 5 days or more. SecuriSync is the only tool on the market that offers the two capabilities necessary for business continuity during a ransomware outbreak. It lets companies do two things vital to a getting back up and running after a ransomware attack: 1) Instantly roll back an archive of files to their uninfected state and 2) Give employees immediate access to those uninfected files from alternate devices.
Nick Patience, Research Vice President for Software at 451 Research, says, "Intermedia is positioned to facilitate a secure and supported business implementation of enterprise FSS (EFSS). The backup and recovery features ensure a level of file resilience that can be important in certain industry verticals, namely healthcare, legal and financial. In a rapidly commoditizing market, SecuriSync has differentiated itself to capitalize on the typically murky connection between file sync and backup services."
Integrated backup and file sharing
File management is critical to most businesses. And mobility has changed file management forever.
In the pre-mobile world, files were centrally stored and managed; remote access to files required a VPN connection, and sharing files was handled through email, FTP, thumb drives and couriers. Employees understood that traveling or being away from their desktop meant they wouldn't have access to the files they needed.
In the post-mobile world, files are stored across multiple devices; there are many options for sharing and collaborating, and work is highly mobile. Employees expect to be able to access their files from any device and any location – even if it's outside the corporate network. And they expect to be able to easily share and collaborate on documents with co-workers, business partners, vendors, and customers.
This increased mobility has improved employee productivity, but it has also increased the risk of data loss:
Documents are stored on the Desktop and in Documents, Photos, Videos, Music, and Downloads folders
PC and laptop backups typically only run once every 24 hours
Employees are sharing corporate files with free, personal services
The more mobile your workforce, the harder it is to manage where company data is being stored, how it's being shared, and when it's being backed up.
For business owners and managers, operating in the post-mobile world takes skill. If you're not providing mobile access and collaboration tools for your employees, they're likely bringing in their own, creating data loss and security risks for your business. And if you are providing these tools, you're likely struggling to stay on top of managing multiple solutions and ensure that all your data is safely and securely backed up.
SecuriSync backup and file sharing solves this challenge. With one solution that offers mobile access to files, the ability to share and collaborate on those files, while providing real-time backup of your entire file management environment.
24/7 expert support
Our engineers work behind-the-scenes to keep your cloud performing at the highest levels. This ensures that nothing distracts you from growing your business.
But should the need arise, our support philosophy is simple: we're here when you need us. And we respond to you, fast.
Here's what you get with Intermedia's support:
Expert phone support

Business apps support: 100% Microsoft Office Specialist certifications for T1 team members
Business apps support: T2 team members are 100% certified, with certifications ranging from Microsoft Certified Solutions Associate (MCSA) to Microsoft Certified Solutions Expert (MCSE)
Voice support: 100% CompTIA Net+ certification within first year of employment
Voice support: 100% SIP School certification for all Escalation/T2 team members

All-hours availability
24/7 phone and chat support is included in most plans.
Short hold times
We typically answer the phone in 60 seconds or less. (This level of service beats executive support at Fortune 500 companies.)
Commitment to resolution
Unlike other providers, we won't push you to self-help solutions. We'll stay with you until we resolve your problem.
No 'critical issues' standard
Unlike other providers, we don't enforce a threshold for phone support. Admins can call us for help with any issue.
No lock-in to a single person
Your account history is available to the entire support team. Each of us has the context to solve your problems.
Commitment to quality
We don't pressure team members on call length. All our key metrics are related to first-call resolution and customer satisfaction.
Obsession with satisfaction
We'll survey your satisfaction after every call. And we'll contact you every six months to get your feedback.
No outsourcing
Every team member is a direct employee. Our overnight support office is manned by English-speaking team members whose certification and problem-solving ability equals our daytime staff.
Senior technicians are available
If you have a highly technical challenge, feel free to request a Level 2 support technician.
Going beyond individual cases
You can request a 90-day review of all your support cases to identify and eliminate recurring issues.
99.999% financially backed SLA
Intermedia believes in giving our customers the best service possible. So we provide your business with a financially backed 99.999% (five nines) uptime service level agreement for all our services.
A 99.999% uptime SLA means that you should expect less than six minutes of downtime over the course of a year—and, if we should fail to deliver, we'll compensate you for it.
Our competitors—including Office 365—only offer a 99.9% uptime guarantee. That's just three nines. And while that difference may not seem significant, the difference actually amounts to downtime of over 8 hours.
Availability %
Downtime per year
99.8%
17.52 hours
99.9% ("three nines")
8.76 hours
99.95%
4.38 hours
99.99% ("four nines")
52.56 minutes
99.999% ("five nines")
5.26 minutes
Source: Wikipedia, "High Availability"
How would your business suffer if you couldn't communicate with your customers or coworkers for a whole day? Or even half a day? With Intermedia's five-nines uptime guarantee, you won't have to find out.
How do we guarantee five nines availability?
We architect our cloud specifically for reliability, performance, and data protection.
Enterprise-class security
Our business is predicated on our ability to offer a more secure environment than our customers could deploy themselves on-premises.
Multi-tenant platform security
Intermedia uses multiple redundant, enterprise-class firewall systems to prevent unwarranted intrusions.
Intrusion protection systems
Intermedia runs multiple intrusion protection systems (IPS) (both host and network) to detect and deter malicious network traffic and computer usage.
Physical security
Our datacenters are closely monitored and guarded 24/7/365 with sophisticated pan/tilt closed-circuit TVs. Secure access is strictly enforced. Security guards are stationed at the entrance to each site.
Employee security
Every Intermedia employee undergoes a rigorous background check. Employee access to passwords, encryption keys and electronic credentials is strictly controlled. Access to servers is restricted to authorized engineers and monitored regularly.
Redundant internet service providers
Each datacenter is serviced by multiple Tier-1 Internet providers to mitigate the potential impact of a Denial of Service (DoS) attack.
Authentication and access
Intermedia's stringent policies and procedures authenticate a caller's identify during support and service calls. Our online control panel gives you full control over access to services and administrative functions.
Dedicated security staff and monitoring
Intermedia employs dedicated, full-time security staff who are certified in all disciplines of information security.
Privacy
Intermedia is registered and certified with the US Department of Commerce for privacy under the Safe Harbor program.
SOC 2 Certification
Intermedia has a SOC 2 audit report from an independent auditor who has validated that, in their opinion, our controls and processes were effective in assuring security during the evaluation period.
PCI compliance
Our payment processing system has passed the strict testing procedures necessary to be compliant with the PCI Data Security Standards (PCI DSS).
Cloud Concierge™ Onboarding
The hardest part about moving your IT into the cloud is retaining the value that's invested in your current system
Most cloud providers force you into a DIY migration path or "recommend" hiring a migration consultant. But Intermedia is different.
Our Cloud Concierge™ experts implement a custom migration plan to move your existing users and data into the cloud with minimal interruption to your business—at no extra cost. We migrate an average of 15,000 mailboxes and over 5,000 phone numbers to Intermedia each month, so you know you're in good hands. Our Cloud Concierge onboarding experts are certified by Microsoft and Cisco, along with other product-specific certifications like SSVVP/SSCA and Sonic Wall. And they routinely complete training courses to increase their knowledge and skills.
Hosted Exchange
Our Cloud Concierge experts will work with you to:
Design an email migration plan that fits your schedule to reduce disruption
Set up your email accounts
Migrate your existing data
Shift your employees over to the new email service seamlessly and without loss of data
Hosted PBX
Our Cloud Concierge experts will work with you to:
Test your network to make sure it can properly support high-quality calls
Work with you and your service providers to optimize your network, if needed
Set up your Hosted PBX service
Port over your existing phone numbers
Ship your new phones
Provide training for using your auto-attendant, creating and managing users and call lists, deploying Callscape, and leveraging other mobility features
Email Archiving
For migrating existing data, you have a number of options:
Currently an Intermedia Exchange customer? We'll port your current mailbox states into Intermedia's Email Archiving at no cost.
Currently using Intermedia's Message Mirror? We'll migrate and ingest your full data set at no cost.
Currently using another archiving solution? We'll migrate and ingest your full data set for you.
SecuriSync® backup and file sharing
Want to sync a file server up to SecuriSync? Just use our SecuriSync for Windows File Server sync tool to:
Install the tool on your file server
Decide whether to sync all or a subset of the files to the cloud, or
Migrate all the files to SecuriSync in case you no longer require the server
Intermedia Office Apps
Enabling Office apps for your users is easy. Simply provision your users for Office apps in HostPilot and then instruct them to log in to My Services and install the apps. Our Knowledge Base provides all the details, including installation and login instructions for your users.
Intermedia AppID®
Our Knowledge Base provides all the information you need to quickly enable AppID for your users. We provide an Admin guide that shows you how to provision users and add custom apps to the service. And give you an end user guide for your users that shows them how to add apps to their portal and use AppID to access those apps.
Powerful control panel
Every Intermedia service is managed through our powerful HostPilot™ control panel.
HostPilot integrates control over your Intermedia user accounts, services and devices across your locations. It essentially functions as a "business cloud platform"—making your cloud simple to manage while still offering granular control that matches an on-premises environment.
Control over services
Easily add other Intermedia services (such as SecuriSync file sync and share or Skype for Business)
Accept or reject user service requests
Review logs of all changes for transparency
Control over devices
Manage a wide range of mobile devices
Set security and management policies for virtually all your mobile devices, including passcode enforcement, data encryption, etc.
Perform remote wipes on lost or stolen devices
Restrict devices from accessing Intermedia services
See all enabled devices across your organization
Control over user accounts
Add, delete or modify user accounts for web applications
Change user settings, distribution lists, company contacts, disk space and much more
Set up multiple levels of administrators
View detailed exportable reports of your account activity, down to individual transactions
Empower users to self-administrate (see below)
Sync with your on-premises Active Directory (via our UserPilot service)
HostPilot mobile app
Our HostPilot mobile app lets you control your Intermedia cloud using your iPhone, iPad or Android device. It's free and available in Google Play or the Apple App Store.
My Services: Our user control panel
The My Services portal lets each Intermedia user perform simple administrative activities. This includes changing passwords, requesting new services, or downloading desktop applications. My Services helps eliminate many of the routine requests that distract admins on a daily basis.