Traverse Monitoring
Unified Performance Monitoring for Today's IT Professionals
Learn how Traverse Monitoring can help you solve your biggest challenges in Performance Monitoring and Management. Monitor on-premise, in the cloud, and hybrid – all from a single action-oriented platform.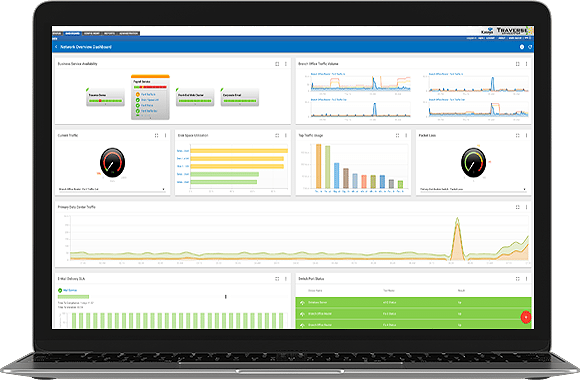 Monitor Your Entire IT Infrastructure and Distributed Data Centers with Traverse
Traverse was built to climb any monitoring challenge, even the most complex networks and datacenters. Set out on your adventure and explore the tools that Traverse Monitoring has to offer.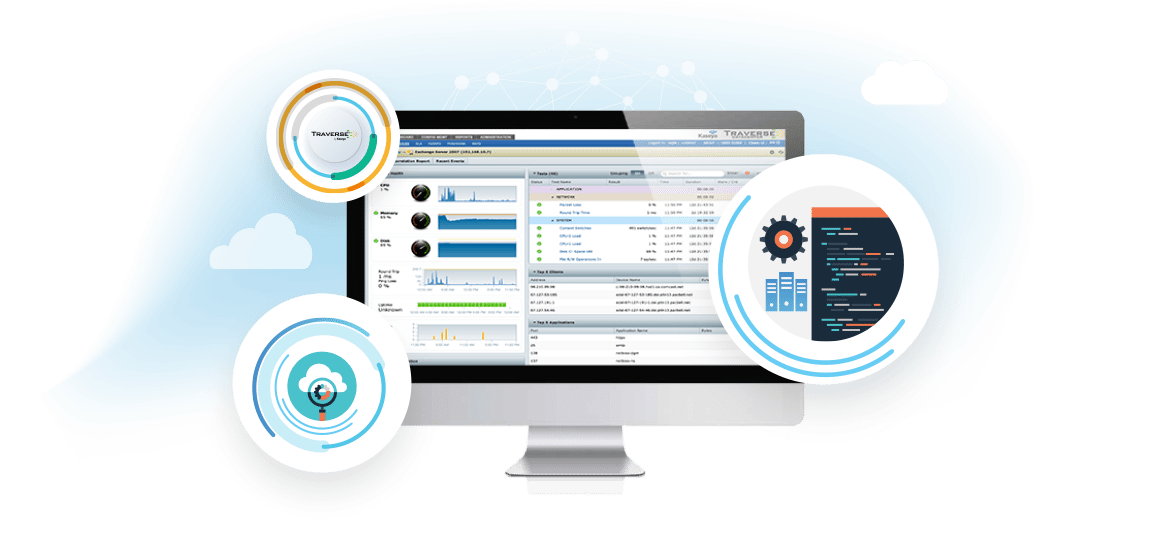 Topology Discovery
Automatically discover applications, networks, servers, and systems
Service Containers
Create unique, logical, business-oriented views of your infrastructure
Network Flow Analysis
Seamless drill-down from system and device, to trouble shooting and analysis
Network Configuration
Backup, restore, and track changes across all your assets
Event Manager
Collect, filter, and categorize events from SNMP, Win, syslogs, and more
Predictive Analytics
Enable automated base lining and behavior learning to adjust alert thresholds
Works in Your World
Private and hybrid clouds, virtualized infrastructure, and distributed networks all multiply monitoring headaches. With Traverse you'll be able to easily monitor and manage your networks and datacenters. Traverse is built to work across hundreds of different technologies – allowing you to quickly deploy Traverse Monitoring into your existing infrastructure.
Integration APIs, Plugins and Alignment with ITIL
Monitoring solutions need to support the critical disciplines in the ITIL framework, with features such as configuration management, performance management, SLA reporting, and more. This whitepaper summarizes the key capabilities of integration APIs and ITIL areas that Traverse directly supports.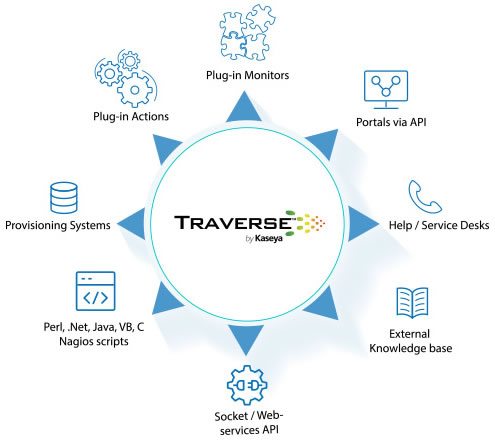 Monitor Your Way to the Top with Traverse
Go ahead. Start the journey to improving your Performance Monitoring capabilities. With Traverse you'll enjoy the following benefits and many more.
Rapid Deployment
Deploy within hours no matter the complexity of your IT infrastructure
Monitor Everything
Integrated with all your favorite technology, on-premise, cloud, and hybrid
Improved Network Health
Stay proactive with alerts, trend analysis, and machine learning
Minimized Downtime
Quickly identify network or database problems impacting downstream services
Unify Your Team
Breakdown monitoring silos through consolidating monitoring tools
Easily Integrated
Integrate Traverse with your most used ticketing, messaging, or BI tools