Kaseya® VSA™
Network Audit & Inventory
Get the Power of Kaseya VSA's Network Audit & Inventory
With Audit and Inventory, discovering and tracking every system and software detail becomes simple, efficient, and reliable no matter where the machines you need to manage are located.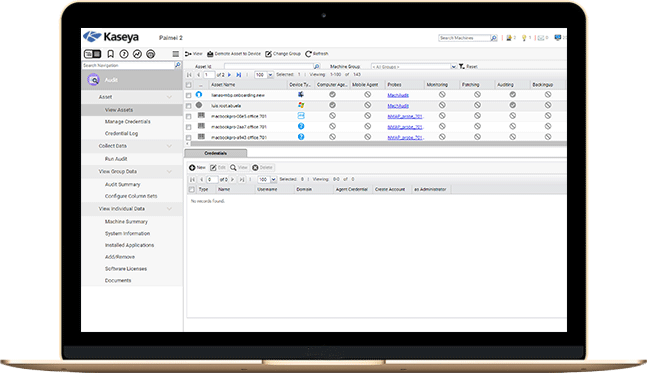 Good Data Empowers Good Decision Making
Having good data at your fingertips means that you can make better decisions, give better answers, and have a better understanding of the current state of your endpoints. Kaseya's Network Audit can grab every piece of useful data from your managed machines.
Kaseya's Audit and Inventory is a core feature of Kaseya's IT Automation Framework. With our Network Audit and Inventory, knowing and tracking every system and software detail becomes simple, efficient, and reliable no matter where your machines are located.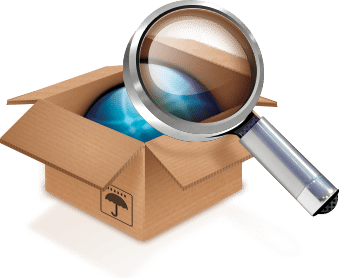 Because the computer inventory and audit module is built on this core framework, it is possible to:
Discover, install, and audit new systems that enter the network
Deploy system configuration templates and standards
Log any hardware, software, or system changes
Be alerted when changes are made to individual systems
Report on current hardware and software statistics
Audit Automation
If good data drives good decisions, then having a tool that allows you to automate the process of running regular audits to collect the data is imperative. With Audit, you can schedule machine audits in any way that you see fit. With clear status reporting you can see when the last audit was completed, when the next one is scheduled, and when you last did a baseline audit for your machines. Find everything in one place.
View complete computer summary on one screen
Pinpoint failures by manufacturer and model
Review changes against the baseline
User defined reports
Scheduling
E-mail notification
Export to HTML, Excel or Word

Automatic Baseline Audits
Immediately after the agent is installed the baseline audit kicks off giving you a known configuration for every machine in your computer inventory. From this baseline you can track hardware and software changes throughout your enterprise. Imagine knowing at any given time exactly what hardware is attached to each system. Did you notice that the new guy hooked up a USB drive to a domain controller? With a solid baseline you can now track the changes.
Version Control
Supporting multiple versions of applications can be very difficult and very expensive. Using Kaseya's Audit you can now know with just a few clicks what versions of individual applications are installed and where. Does your client have an app that requires a specific version of .NET Framework? Knowing details like this is simple with our fast and comprehensive Audit and Inventory.
Complete Inventory Control
Manufacturer
System Model
System Version
Bus Speed
Memory Installed, Slots
Serial Numbers or Service Tags
Max Memory Size and Slots
Motherboard Maker, Version, Serial
Processor Family, Maker, Max/Current Speed
Ports (Number, Type)
Application Executable Name
Description
Version
Manufacturer
Product Name
Directory Path
File Size
Last Modified Date
IP Information
DNS/DHCP server information
Disk Volume Information including drive letters, space available, volume labels
PCI and Drive hardware information include models
CPU and RAM information with specifics
Printer information from the the currently logged on user
Vulnerability Protection
Visibility to Vulnerabilities (CVEs) by aggregating the patch status of the network in one dashboard
Rapid Distribution on and off Network
Rapid Distribution leverages the Agent Endpoint Fabric to optimize the delivery of installer packages, even over latent networks. Eliminates the need for a centralized File Share or LAN Cache.
Scan & Analysis functionality
Schedule a Scan & Analysis of the network on a regular routine so you can automate updates
Scheduling
Blackout Windows enable you to halt processing during a defined period of time
Policy profiles for automation of approval, review or reject
Policy Profiles – Simplify updates using standardized, scalable profiles to approve, deny, or provide machine associations
Ability to override profiles
Ability to Override Profiles allows you to deny a specific patch, KB, or block a specific update to a subset of machines
Migration from VSA Patch Management Module
Migration from VSA Patch Management** is supported for customers with an existing VSA who want to evolve their software management service
*Visbility to 3rd Party Patching status is included with core Software Management functionality. However, installation of 3rd Party applications is licensed separately.
** VSA Patch Management remains available though Kaseya recommends new customers configure solely through Software Management