Security through Unification and Standardization
IT Professionals know that when their network is at risk, the organization is at risk. Most IT Professionals spend unnecessary cycles trying to apply the same patch policy across complex networks that span multiple locations, include multiple domains, traverse multiple firewalls, and include remote and home users. They need different tools for different reasons and suffer from a tremendous amount of work trying to aggregate results to see vulnerability.
Kaseya Software Management provides real-time visibility to the patch status of your complete responsibility, including on-and-off network devices. Software Management is powered by policies to ensure you can automate software maintenance across platforms, and easily address the complexities of patch deployment.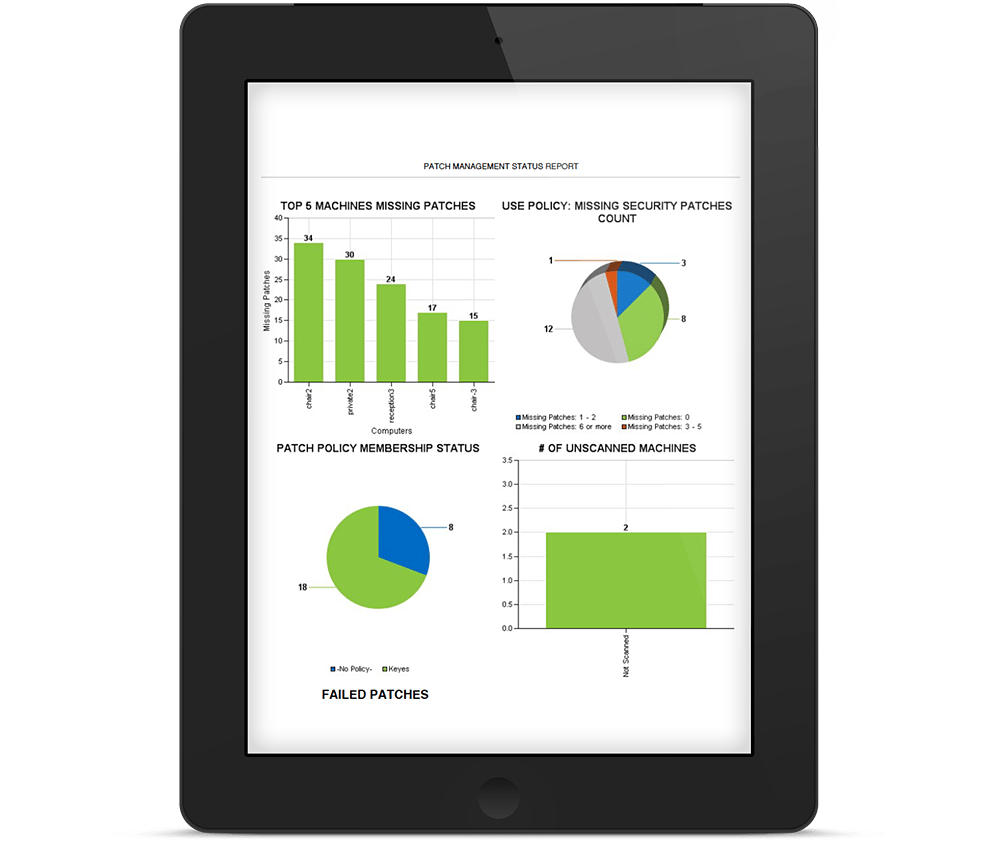 Patch Management Software automatically keeps servers, workstations and remote computers up-to-date.
Vulnerability Protection
Visibility to Vulnerabilities (CVEs) by aggregating the patch status of the network in one dashboard
Rapid Distribution on and off Network
Rapid Distribution leverages the Agent Endpoint Fabric to optimize the delivery of installer packages, even over latent networks. Eliminates the need for a centralized File Share or LAN Cache.
Scan & Analysis functionality
Schedule a Scan & Analysis of the network on a regular routine so you can automate updates
Scheduling
Blackout Windows enable you to halt processing during a defined period of time
Policy profiles for automation of approval, review or reject
Policy Profiles – Simplify updates using standardized, scalable profiles to approve, deny, or provide machine associations
Ability to override profiles
Ability to Override Profiles allows you to deny a specific patch, KB, or block a specific update to a subset of machines
Migration from VSA Patch Management Module
Migration from VSA Patch Management** is supported for customers with an existing VSA who want to evolve their software management service
*Visbility to 3rd Party Patching status is included with core Software Management functionality. However, installation of 3rd Party applications is licensed separately.
** VSA Patch Management remains available though Kaseya recommends new customers configure solely through Software Management