Kaseya® VSA™
Remote Control
Powerful, Fast, Remote Control Software
Kaseya delivers a complete, fast and secure remote control solution even behind firewalls or from machines at home.
Access and manage computers from anywhere at near instantaneous connect times with extraordinary reliability, even over high latency networks.
IT Professionals frequently need to access servers, workstations and mobile devices securely, quickly and without impacting the productivity of users. The Kaseya integrated IT management platform delivers a complete, fast and secure remote control solution even behind firewalls or from machines at home. Stop using consumer oriented remote control tools that don't give you the security or integrated systems management features you need to operate in a professional IT environment.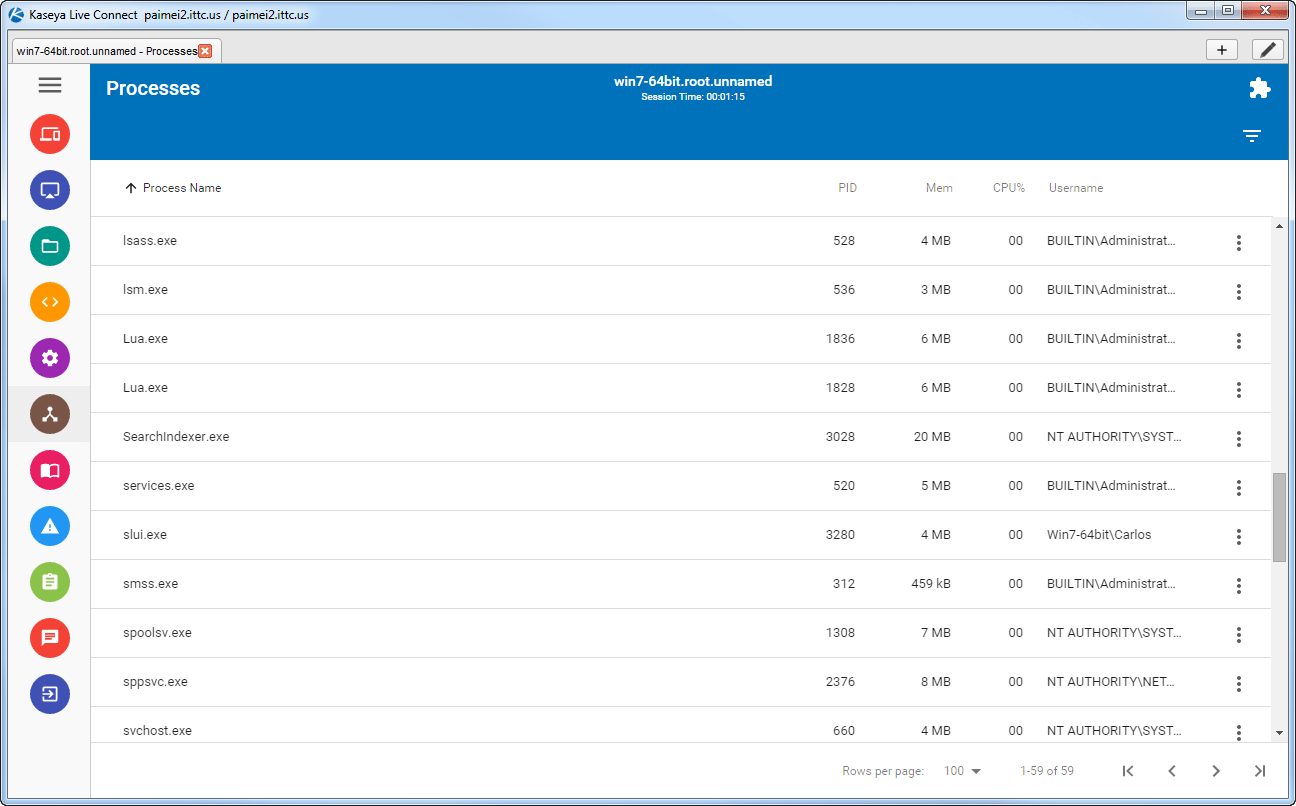 Kaseya Remote Control enables technicians and administrators to remotely troubleshoot and manage their computers regardless of their location.
Remote Control enables the technician to take over the remote computer collaboratively with the end user. They can work collaboratively or the technician can work with full computing access as the currently logged in user. All operations are as if the technician were physically sitting in front of the computer.
Private Remote Sessions for Windows Establish private Remote Control sessions for Windows so that administrators can work on servers or workstations without the end user visually seeing what is being done.
Every Session is Logged for Your Compliance Needs Track and report on Remote Control sessions by admin, by machine, per month, week, day, etc., with a history of access for compliance purposes.
Shadow Support for Terminal Server Users Shadow end user terminal server sessions to more easily identify and resolve user issues.
Know When There Is Latency on the Line Show session latency stats during the remote control session so administrators are aware of the connection strength and its impact.
Supports Multiple Monitors on the Remote Endpoint See every screen on the remote endpoint with zero configuration. You can even connect two or three times simultaneously and see them all at once.
Remote Control to maximize service quality and IT efficiency
Having technicians work on machines remotely can substantially improve IT efficiency. Kaseya provides the unique ability to completely control and audit all clients for issue resolution, reporting, ticket closure and compliance.
Record screen activity of work performed and attach to open tickets
Provide the end user control and security to enable or disable remote control functions until granted approval
Secure communications using certified Kaseya technology
No ports to open or firewall configuration needed only a simple internet, connection required
Quick View – Single Machine Access at Your Fingertips
You can see the computer status of any machine connected to your environment without the need for connecting. Each computer reports back its current status – on, logged in, active, etc. So long as the computer can connect to the internet – whether remote or in the office, you will see it online.
Hover over any of the Computer Status icons to get Quick View – a configurable quick toolkit for each computer. Completely configurable to include the most important tasks and tools you need – which includes most all of the functionality in Kaseya as well as waking the machine, recording the desktop, or connecting to tickets related to that computer. Single click access to specific Live Connect tools, run scripts or Desktop Access.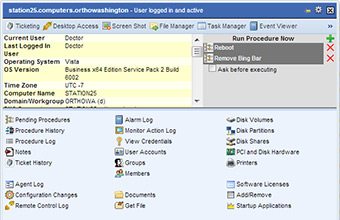 Access any single machine with Quick View
Check-in status
These icons indicate the agent check-in status of each managed machine. Hovering the cursor over a check-in icon displays the agent Quick View window.

Agent online

Agent online and user currently logged on

Agent online and user currently logged on, but user not active for 10 minutes

Agent has never checked in

Agent is online but remote control has been disabled

The agent has been suspended
Vulnerability Protection
Visibility to Vulnerabilities (CVEs) by aggregating the patch status of the network in one dashboard
Rapid Distribution on and off Network
Rapid Distribution leverages the Agent Endpoint Fabric to optimize the delivery of installer packages, even over latent networks. Eliminates the need for a centralized File Share or LAN Cache.
Scan & Analysis functionality
Schedule a Scan & Analysis of the network on a regular routine so you can automate updates
Scheduling
Blackout Windows enable you to halt processing during a defined period of time
Policy profiles for automation of approval, review or reject
Policy Profiles – Simplify updates using standardized, scalable profiles to approve, deny, or provide machine associations
Ability to override profiles
Ability to Override Profiles allows you to deny a specific patch, KB, or block a specific update to a subset of machines
Migration from VSA Patch Management Module
Migration from VSA Patch Management** is supported for customers with an existing VSA who want to evolve their software management service
*Visbility to 3rd Party Patching status is included with core Software Management functionality. However, installation of 3rd Party applications is licensed separately.
** VSA Patch Management remains available though Kaseya recommends new customers configure solely through Software Management