Kaseya® VSA™
Next-Gen Remote Monitoring and Management Software
With VSA you'll have the worlds fastest remote control, powerful discovery, reliable patch management, and a host of monitoring and security tools all in one complete easy to use RMM solution.
Manage & Automate All of IT from a Single Dashboard
Kaseya VSA was built to solve the problems that mean the most to you – delivering better service and improving your team's efficiency. Explore Kaseya's feature-rich platform and we're sure you'll find the solutions you're looking for.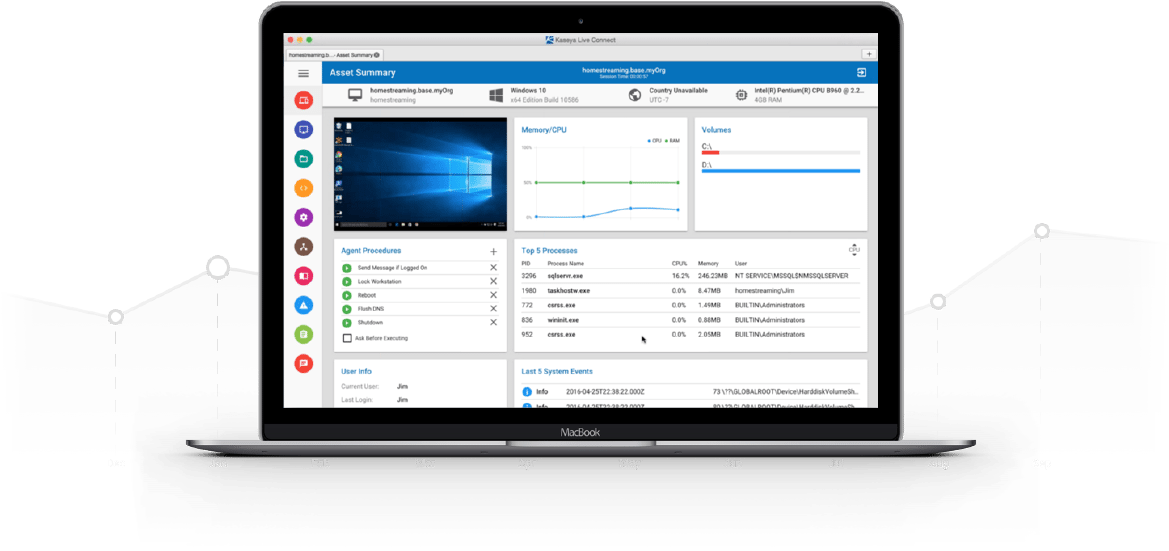 Discover and track every system and software detail – no matter where the machine is located
Get a Price Quote
Ready to get started? Let's talk about how VSA and its capabilities can solve the problems facing your IT organization.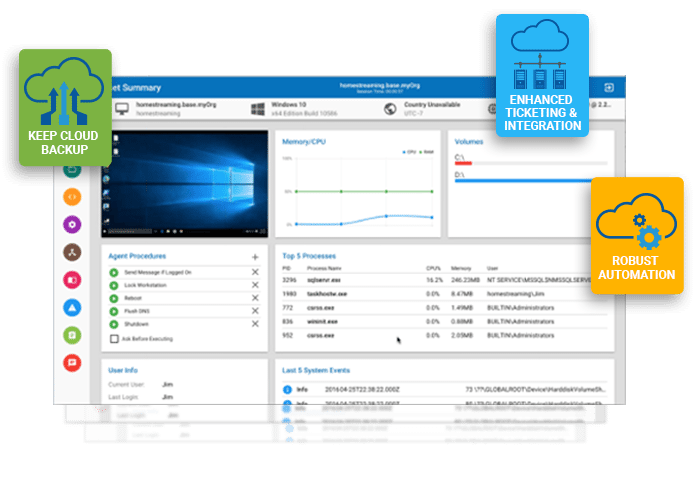 IT Automation
Deploy policy-based automation with proactive remediation to increase productivity and allow you to do more with your existing staff. Automate deployment of software, manage patches, control identity and access, and proactively resolve issues across your complete environment with the push of a button.
Automation Framework
Kaseya's powerful Automation Engine allows you create scripts that solve your most critical and labor intensive problems. It's time to evolve your IT processes and operations with VSA.
Automation Exchange
Kaseya's open marketplace for sharing, buying, and selling agent procedures, monitor sets, reports, templates and more. Join Kaseya's Community to share resources and automate your IT.
Welcome to Your New & Improved Life in IT
We've built Kaseya VSA with the intention of making your business stronger and more efficient. With that in mind, here are some key benefits you'll experience once you make your move to Kaseya VSA.
Improved Profitability
Your success is at the forefront of our development and business decisions. With VSA you'll have the opportunity to improve your bottom line.
Increased Efficiency
Get more accomplished in less time, which means more time for family and friends!
Compliance Made Easy
Meet and exceed your service expectations of your customers.
Happy Customers
Faster and more efficient services means happier customers and longer retention.
The Power to Choose
We've built our products to work as an open platform, allowing you to choose the solutions that work best for your business.
Easy to Use
As simple as you want it to be. As powerful as you need it to be.